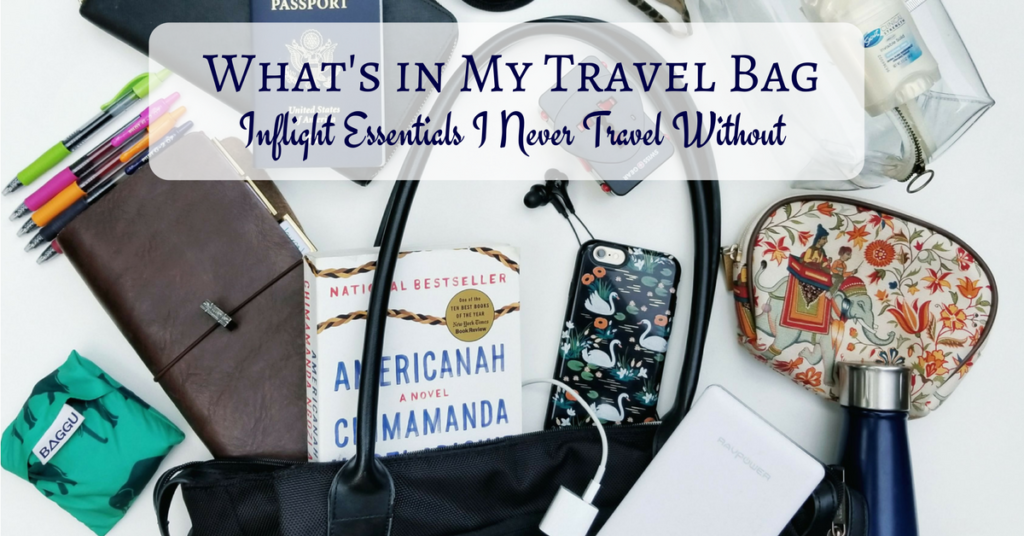 A thoughtfully packed travel bag makes all the difference when jet-setting around, especially if you're trying to survive a long-haul flight. These are the inflight essentials that I never fly without.  In order to make going through security and my inflight routine easier, they are all organized into small pouches, and my toiletry bag and electronics are the easiest to reach. A sturdy, organized travel bag is essential for your personal carry-on bag, and you can find our favorites here.
The Essentials – What's in My Travel Bag
Travel Wallet – Truth be told, I travel enough that my travel wallet is my daily wallet. I like that it holds my passport, my cards, and has multiple zipper pockets for other currencies. That makes multi-country trips much easier! I treated myself to this great one by Kate Spade.
Noise-Canceling Headphones – These are my saving grace on a plane. Blocking out the background noise helps me relax. I use them for watching movies, listening to music, and even when I sleep. Since they keep the stressful noises out, they pair perfectly with a relaxing white noise app that helps me doze off to sleep.
Eye Mask – A comfy eye mask is a necessity if you intend to sleep while in transit. I love the ones by Perpetual Shade. They're a little oversized, so they block out more light than the masks the airlines give out.
Carry-On Toiletry Kit – I love this sturdy, clear zipper bag from Madewell.  Flight 001 makes another great one that has a slightly slimmer profile. Keep it at the top of your bag or backpack for easy access when you go through security.
L'Occitane Hand Cream & Burt's Bees Vanilla Chapstick – It's no secret that airplanes are cold and dry. I reapply this hand cream and chapstick a few times throughout the flight for a mini spa experience in my seat.
Mini Toothbrush & Toothpaste – I love the flavored toothpastes by Marvis. Air travel is an exhausting experience, so I try to make the little things a little extra luxurious when I can, and sometimes that means splurging on fancy toothpaste.
Makeup Removing Wipes – If I'm taking a long-haul flight, I typically don't bother wearing makeup to the airport since I'll just be taking it off. These wipes feel good on my face and double as a refreshing, all-over wet wipe toward the end of a long flight.
Miscellaneous Toiletries – Hair ties, a mini hair brush, hand sanitizer, mini deodorant and night cream if it's a long flight…
Zip Pouch for Medicine – Always keep your medicine on you, never in a checked bag!
Water Bottle – My Swell water bottle always joins me on my travels. Be sure to stay hydrated while on the flight by bringing an empty water bottle through security and then filling it up at the gate. Flight attendants can refill it for you during the flight.
iPhone, Laptop, External Batteries, Converters & Chargers – A small zipper pouch for my charges, converters, and external battery helps keep things organized and compact.
A Good Book
My Travel Journal & Pens – I wrote a few months back about my new found love of travel journaling. I use the Japanese Traveler's Notebook inserts and a FoxyFix cover. If you've been thinking about a fun, creative way to record your travels and store your postcards and tickets, check out my travel journal tips. Sometimes I write a lot and maybe do a little coloring. Other times I just keep it simple by recording my itinerary, pasting in my tickets, and writing a few highlights or favorite meals. It doesn't have to be a big commitment, and that's what I love about it.
A Few Of Our Favorite Travel Totes
Everlane Tote – This smaller tote is great for shorter trips or when you're not carrying your laptop. It's great on the plane and as a day bag since it zips up.
Everlane Snap Backpack – I know, it's not a tote, but this stylish backpack helps me stay hands-free at the airport and on the subway. It also has a padded laptop compartment and a
Dagne Dover Legend Tote – An instant classic, this tote has organization and style to spare.
Madewell Transport Tote – The standard Transport tote is a classic, but we prefer the medium crossbody tote since it has a zipper top.
Stella & Dot Daytripper – This chic, sturdy tote expans with a quick zip. They also make a larger version, the Getaway, which fits under the seat in front of you but then expands to a large enough tote that it will need to go in the overhead bin.
Lo & Sons OMG – The pockets in this light and smart bag help to keep you organized as you travel. I love that the back pockets zips on the top and bottom so you can attach it to your suitcase!
What about You?
What do you always carry in your travel bag? What inflight essentials do you never fly without? We always love hearing your recommendations!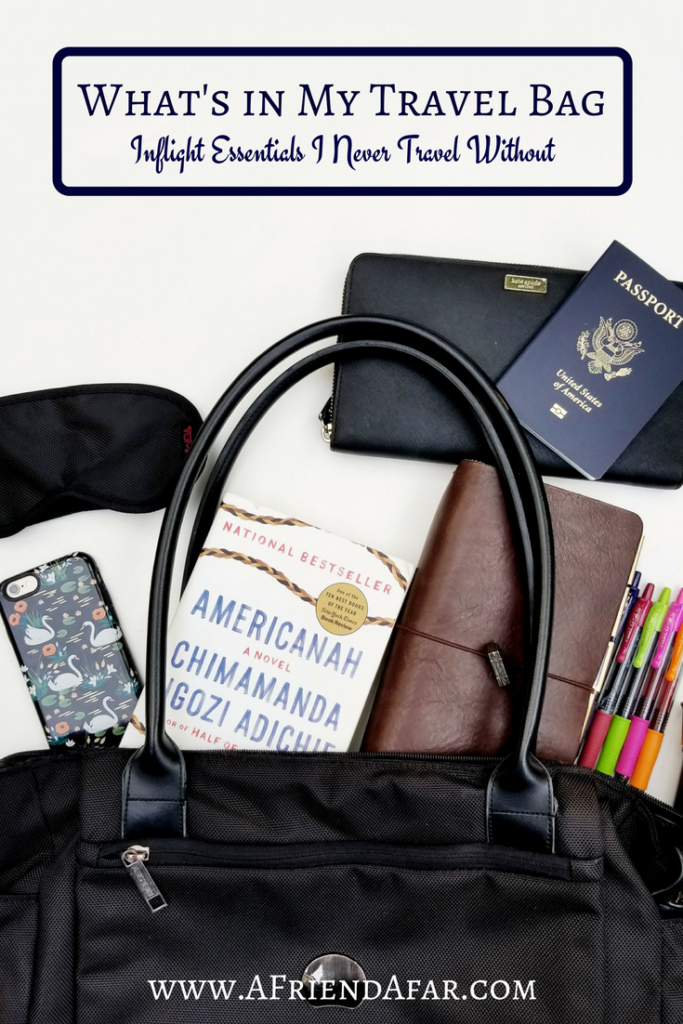 [Disclosure: This post contains a few affiliate links, which means we receive compensation if you make a purchase using those links. None of the items on this list were sponsored, and all of the opinions are our own.]
Save
Save
Save
Save
Save
Save
Save
Save
Save
Save