When you think of the Caribbean, the U.S. Virgin Islands (USVI), with the tagline "America's Paradise," might not typically come to mind. If you're searching for the ultimate beach vacation, look no further. In 2017, the three islands are celebrating  the 100th anniversary of Transfer Day with a USVI Centennial Commemoration promotion of $300 in spending credits to be used on specific activities and restaurants. St. John is the smallest of the three U.S. Virgin Islands and two-thirds of the island is covered by Virgin Islands National Park, which was the main reason we wanted to visit. It's one of the lesser known national parks that was on the list for a while. Find out where's the best snorkeling, hiking, dining and sleeping on the island in our St. John USVI vacation guide.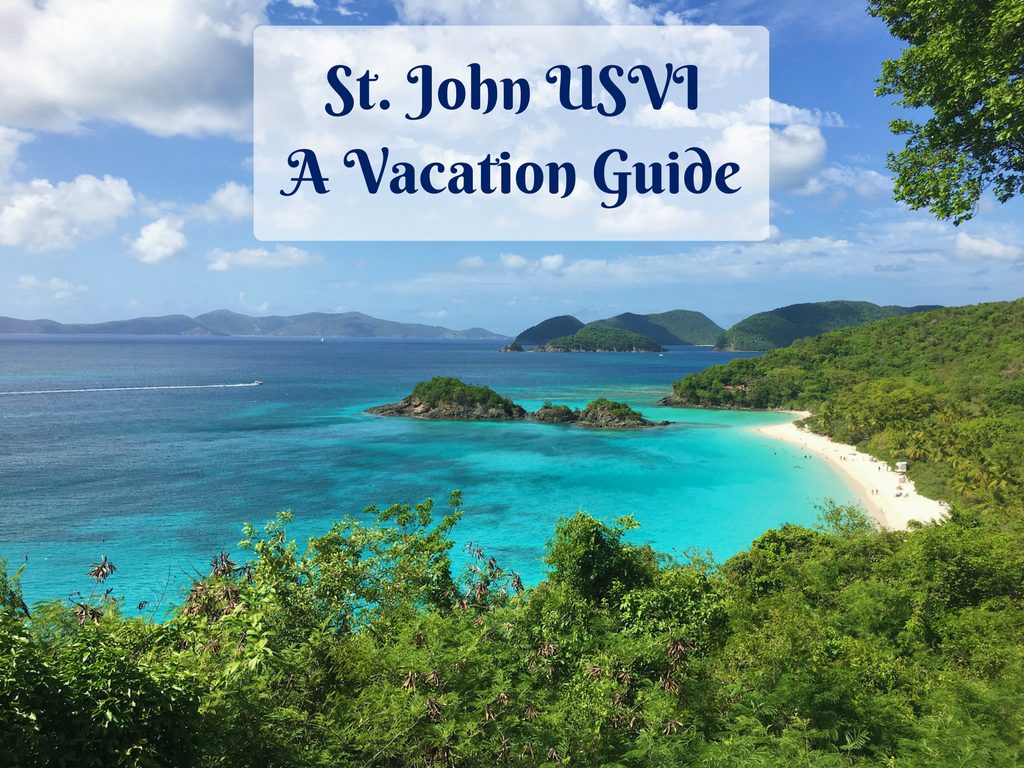 Activities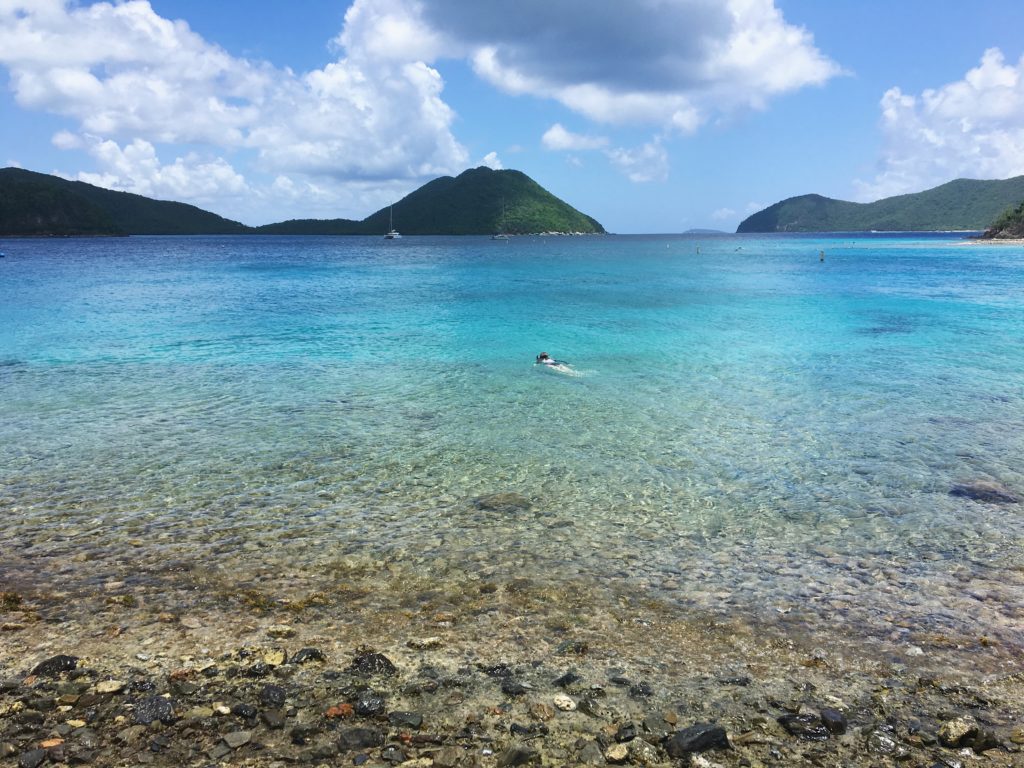 Snorkeling
Snorkeling is just one of the highlights of a stay on St. John and some of the best snorkeling can be found by swimming to coral reefs just off the beaches. You'll see fish, sea turtles, and more! Waterlemon Cay can be visited in combination with the fascinating Annaberg sugar plantation ruins. Walk for a little less than a mile on the Leinster Trail until you pass Waterlemon Bay and reach the beach near the cay. Swim out and around the little island but be careful of the currents. Salt Pond Bay was another nice snorkeling spot and required less of a hike. You can also snorkel at many of the other beaches where you park close by.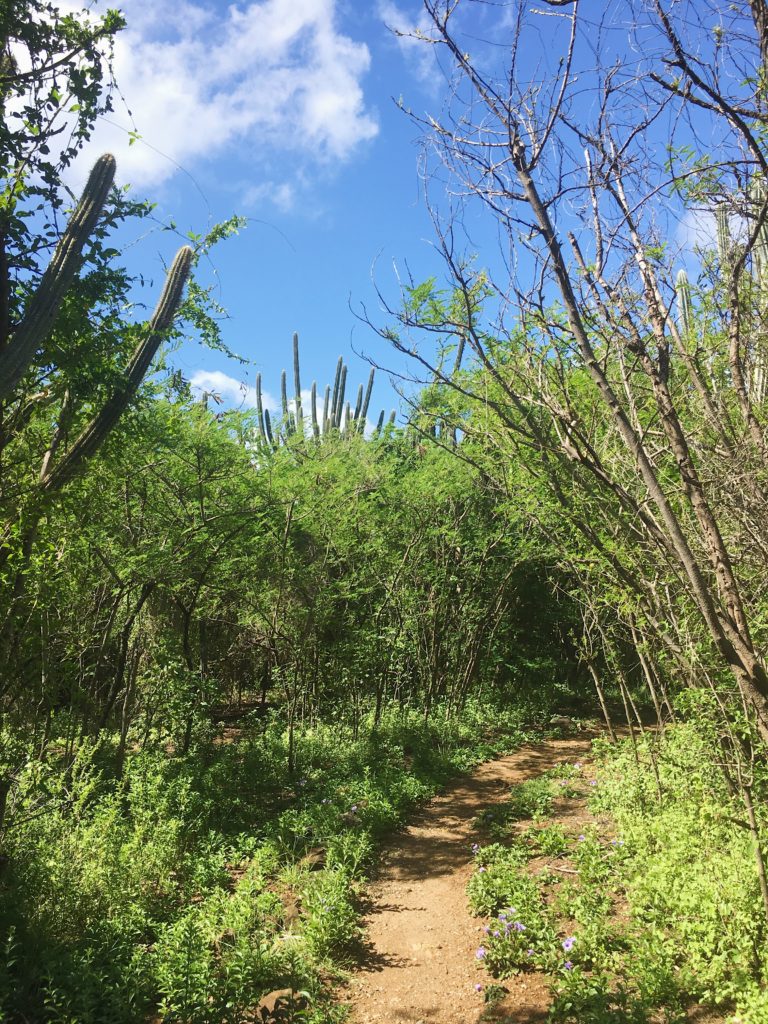 Hiking
Trails on the island include Ram Head, Reef Bay, and L'Esperance in Virgin Islands National Park. Ram Head Trail is reached after Salt Pond Bay and in less than a mile you are rewarded with amazing coastal views. It's a perfect trail at dusk and is quite popular for sunset and during the full moon. Reef Bay and L'Esperance are around three miles long. The former takes you past petroglyphs and plantation ruins while on latter you can see the island's sole baobab tree and more plantation ruins. Both can be done on ranger led hikes where a boat returns you to Cruz Bay Visitor's Center.
Tours and rentals
There are a plethora of tours and rentals to choose from including sunset boat tours, day tours to the British Virgin Islands (BVI), kayaking, parasailing, scuba, charters and more! We decided to use our spending credits on a kayak, hike and snorkel adventure with Virgin Islands EcoTours. The 5 hour Best of Caneel and Henley Cay tour saw us kayaking out of Honeymoon Beach to Henley Cay where we then snorkeled and saw some of the prettiest coral reefs of the trip. Next we kayaked to Caneel Bay Resort's Scott Beach where we did the hiking portion of the tour and learned about the history of the resort and the island on Mary's Point Nature Trail.
Then we snorkeled at Scott Beach where we saw tons of sea turtles, a stingray and squid. The tour ended when we kayaked back to Honeymoon Beach where lunch was waiting for us. We whiled away the afternoon at Honeymoon Beach chilling in a hammock, on a lounge chair or back in the ocean with a piña colada in hand.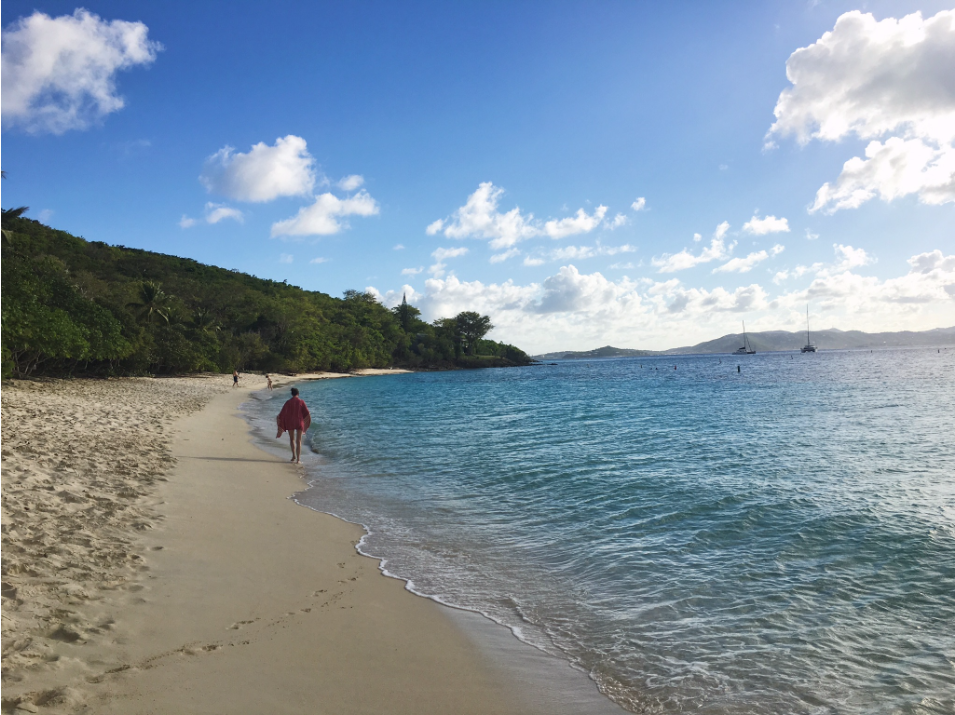 Beaches
Some of the most popular beaches on the island are Hawksnest Bay, Trunk Bay, Cinnamon Bay and Maho Bay, from west to east coming from Cruz Bay. We really enjoyed relaxing on Honeymoon Beach after our eco-tour which is accessed from Caneel Bay Resort or via the Lind Point Trail. There are many other hidden jewels like Jumbie Beach, Little Lameshur Bay, and more!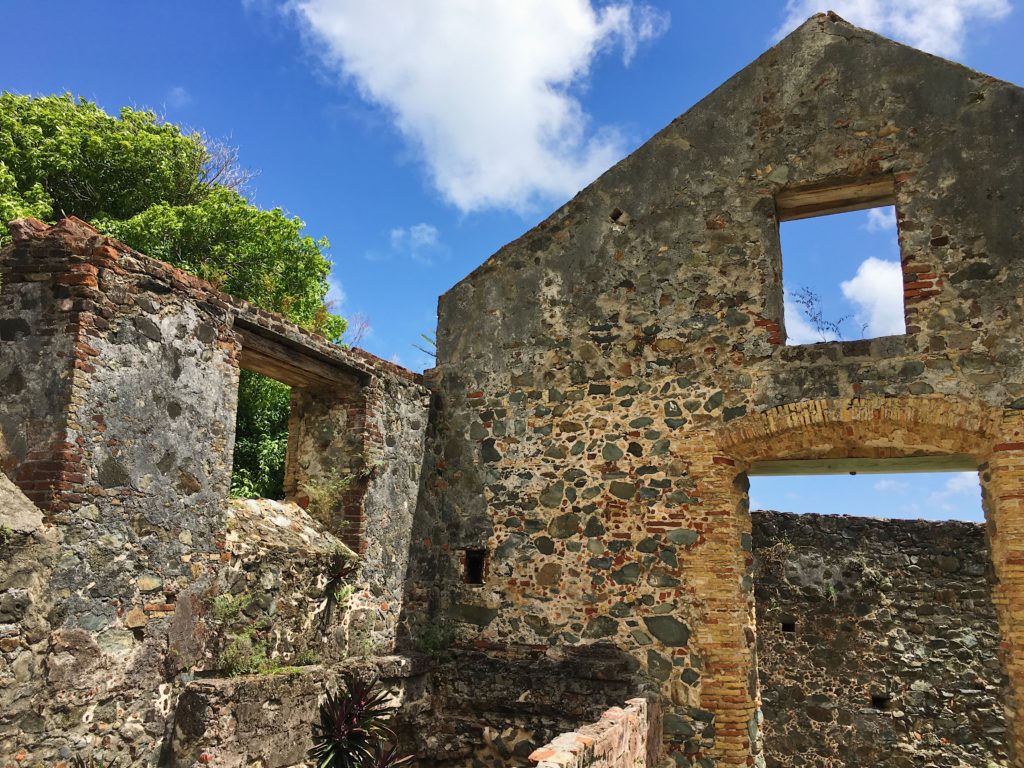 THE ISLAND'S HISTORY
The pre-Columbian Taino people are the first known inhabitants of St. John though it's thought that there was an even earlier people group.  In 1493 during his second voyage, Columbus sailed past the U.S. Virgin Islands but recorded them to be uninhabited. In 1718, Danish from St. Thomas settled in Coral Bay, St. John  and over 100 sugar plantations were established throughout the island using slave labor, many Akans from Ghana, and eventually number of slaves outnumber the number of free men. In 1733, after a drought, hurricanes, and an insect plague, there was successful slave revolt led by high-ranking Akans where a quarter of the island's population was killed and many plantations were destroyed. After six or so months, the French and Swiss armies from neighboring islands defeated the slaves.
The Danish eventually abolished slavery in 1848 which then resulted in the decline of the plantations but some small-scale farming continued. The US bought St. John, along with St. Thomas and St. Croix, from Denmark for $25 million in 1917 as part of its military defense. Virgin Islanders were granted US citizenship in 1927. By the 1930s, the tourism industry started developing with the arrival of automobiles and later flights to St. Thomas. All the roads on St. John today are former donkey cart paths and you can still see donkies roaming around the island. In 1956 Laurence Rockefeller in donated land to the Federal Government to establish Virgin Islands National Park, the nation's twenty-ninth.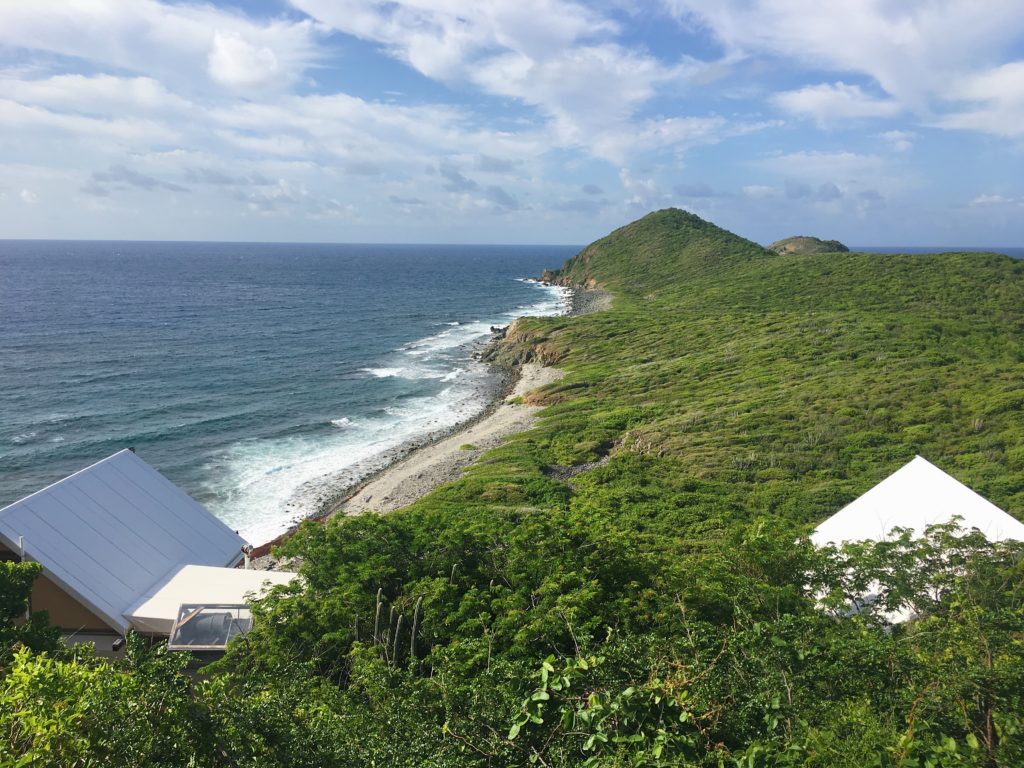 WHERE to STAY
Concordia Eco-Resort has solar-powered eco-tents that feel like tree houses starting at $160. It's on the Coral Bay side of the island so it feels remote. Plus there are amazing views over Salt Pond Bay, Ram Head or Drunk Bay!
2. The Westin St. John Resort Villas are close to Cruz Bay and have everything you need in a resort, like a pool and beach. Rates are from $350 per night or save up those Starwood points.
3. Get an Airbnb!
4. Caneel Bay Resort is set within the Virgin Islands National Park and was ranked by U.S. News as one of the Best Hotels in the Caribbean for 2017. It has seven beaches and four restaurants to choose from and starts at $450 a night.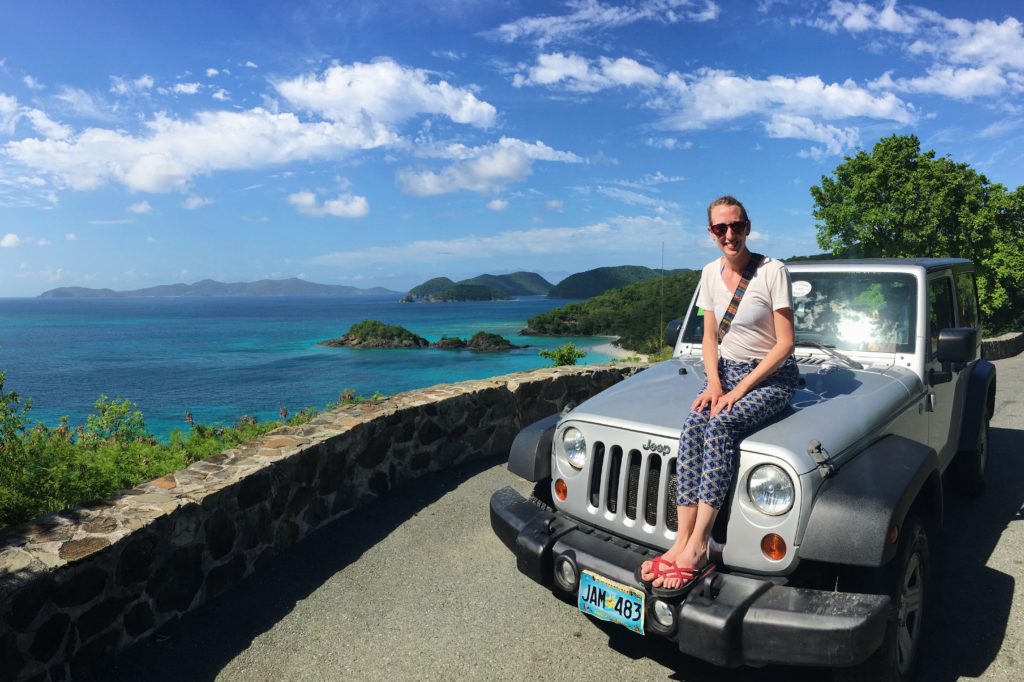 GETTING THERE and around
There are direct flights to St. Thomas in the USVI from our hometown Atlanta, New York City and Miami. Many flights from other cities in the US connect through San Juan, Puerto Rico. Once you arrive at the airport in St. Thomas, take a shared taxi to Red Hook for about $15 per person. Ferries depart hourly on the hour both ways and take 20 minutes to travel between Red Hook, St. Thomas and Cruz Bay, St. John. If you're staying near Cruz Bay, taxis can be used to get around. If you're staying  on other parts of the island, rent a Jeep. We used St. John Car Rental and they were great!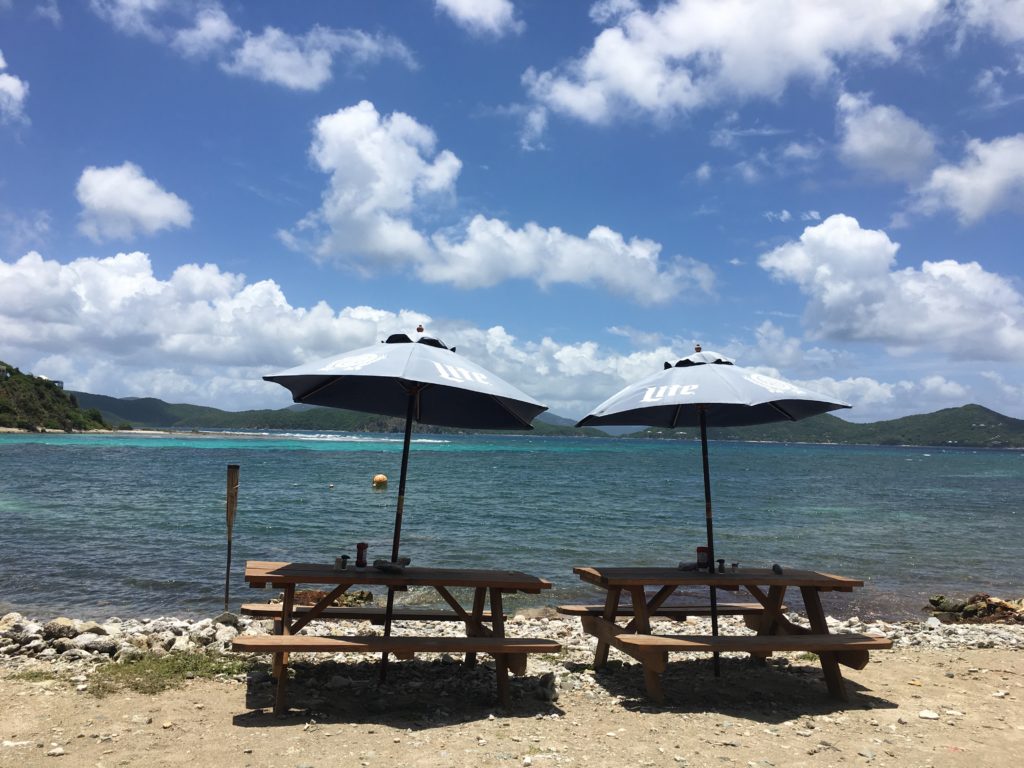 WHERE TO EAT
Miss Lucy's on Coral Bay has an excellent Sunday brunch and a great view (see photo above)!
2. La Tapa in Cruz Bay is a small, intimate feel to taste different tapas and paired wine with them.
3. Aquabistro in Coral Bay is a seaside restaurant and bar. We went for lunch and the fish tacos were excellent along with some St. John Brewers craft beer.
When To Go
You can visit St. John year round since the highs tend to always be in the 80s and lows in the 70s. We went in early June and we're happy not to be there during peak season, which is December to March. Hurricane season is June through November with the rainiest months being September through November.
Have you been to St. John UVI before? Do you have any tips to add? Does this post make you want to go to St. John now? Let us know in the comments section!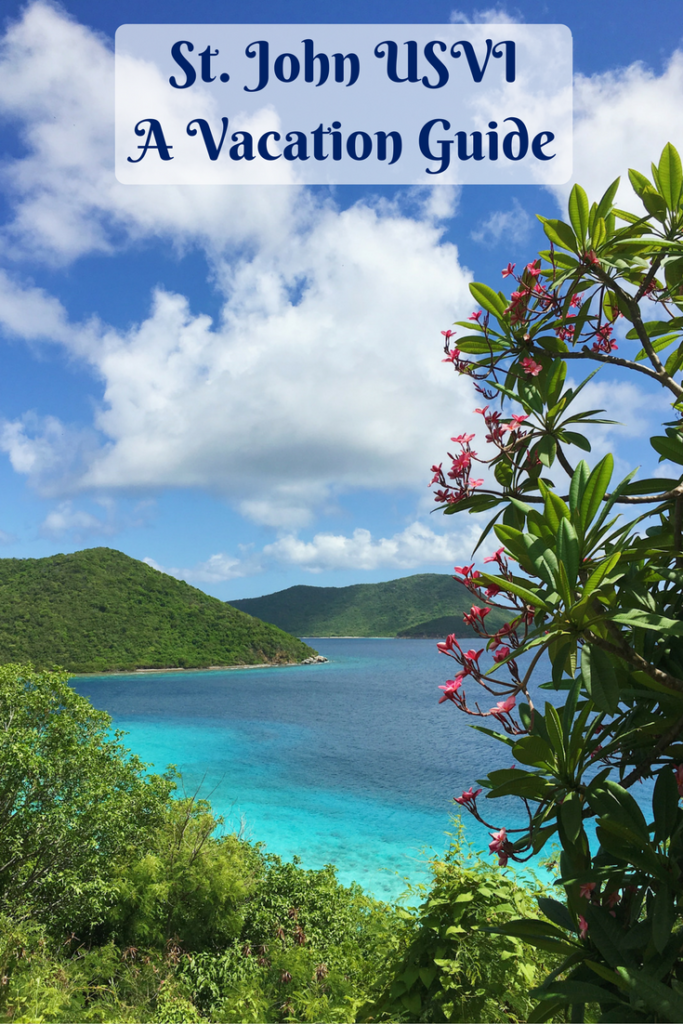 Save