Quick! What's the coolest thing you've ever done on vacation? It's hard to decide, I know! What about the fanciest thing you've ever done? If you had told me a few weeks ago that I'd be wearing shorts, tennis shoes, and sunscreen while simultaneously feeling at the height of luxury, I'd have laughed! But when we traveled through the amazing scenery of Burgundy, France on two wheels, it was clear that we were enjoying the vacation of our lives. Biking in wine country was absolutely the best!
We all know France is famous for its world-class wines and amazing meals, but if you're looking for a truly memorable vacation, here's why you should throw out all your previous plans and head to Burgundy.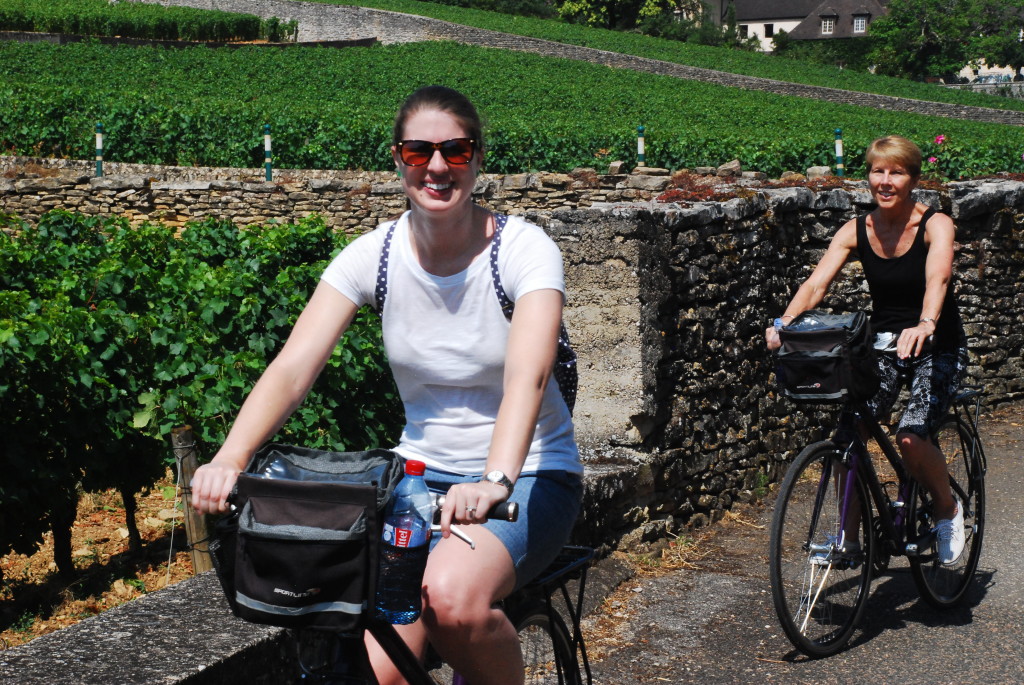 We spent a few nights in Beaune, just a short train ride south of Dijon, and it was the perfect decision! Beaune is a wonderfully small town that is surrounded by an old wall just like Avignon. It's smaller than Avignon though, and somehow when the sun sets, the town falls quiet, and you suddenly have the cobblestone streets to yourself. We stayed at La Villa Fleurie, a charming B&B with a wonderful breakfast and friendly, helpful staff, and we can't wait to go back!
Beaune is also home to Bourgogne Randonnées, the most helpful bicycle rental shop you could ask for. They set us up with bikes and baskets for a very affordable price for 2 days and provided us with a great map and directions to all of the places we wanted to see. Since they're the experts, they gave us great advice about what towns to visit and which wine "caves" would be easiest to visit for non-French speakers. Thanks to them, our adventure was off to a great start and ran so smoothly!
We were a little nervous about our trip until they explained to us that the only cars allowed on the roads we'd be taking were for vineyard operations. Not only did we pass very few cars while riding through the vineyards, but the paths were also not very crowded with other cyclists. We found ourselves wondering how we'd stumbled across such an amazing secret!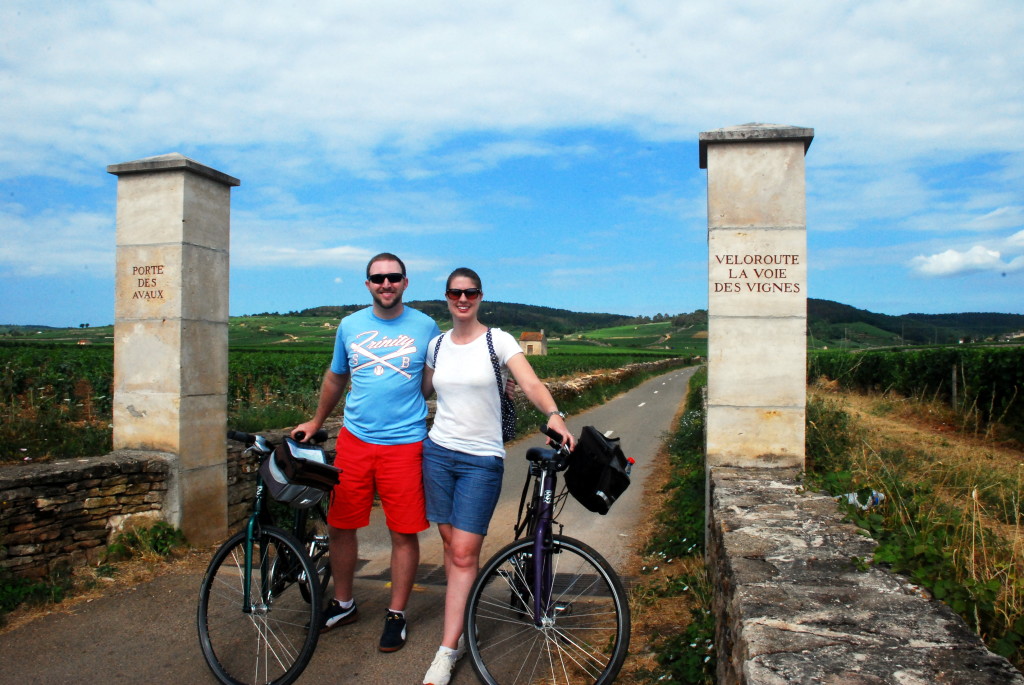 We started our ride right here, with the vineyard walls and gates that announce that we're entering the Veloroute la Voie des Vignes, the Routes de Grands Crus. We stopped to take pictures at the signs and to take it all in. I can't begin to describe our enthusiasm and disbelief!
A quick primer on Burgundy wines (by this non-expert):
If you think of Beaune as your home base and the hub of the Côte de Beaune, white wines are the specialty of the villages to the south due to the soil composition, and red wines are more common to the north. Here's a great guide to the more in-depth details about wines from the region and their classifications. We learned all about this from the expert sommeliers at the vineyards and wine caves we visited.
Our path led us from Beaune through Pommard (pictured above) and Volnay to the gorgeous town of Mersault where we enjoyed a picnic from a boulangerie by the fountain on the square. Mersault has some wonderful boulangeries and cafes, and we found that it was the best place to stop for a meal along the way. From Mersault we continued our tour through the vineyards to the tiny towns of Puligny-Montrachet and Chassagne-Montrachet before we realized that we were worn out and should probably head home. We weren't expecting our energy to drop off so quickly! If you're in far better shape than us, try to make it to Satenay. All in all, we biked about 22 miles that day. All that exercise meant we had even more bread, cheese, and desserts later that night than we normally would, and that's saying a lot! Oh, and extra wine, of course!
Burgundy was more than we could have ever imagined! The scenery was breathtaking, and knowing that we were biking through some of the best vineyards in the world made the trip so luxurious. Even with all that we read before we arrived in Beaune, we were still really surprised by the following:
Lack of crowds – We expected everyone to be in such an important region for French wines. While we saw a lot of tourists in Beaune at the wine caves and the Hospices, it seemed that the majority of them were just passing through on a tour. There were definitely tourists in Beaune, but it never felt crowded.
Tiny towns – Each little village that we rode through had its own unique personality. When we entered the smallest of the towns in the afternoon, they all had a very sleepy atmosphere.  As I mentioned before, it felt as though we had stumbled upon a wonderful secret. When part of your vacation is set in a tourist magnet like Paris, these towns were a mini-vacation!
Vines as far as you can see! We knew we'd be biking through vineyards. We just didn't realize that every inch of land in Burgundy would be devoted to vines. It was a never-ending vineyard surrounding each village, and only the short stone fences marked the property lines.
Everyone is making wine! When entering a small village like Volnay or Puligny-Montrachet, we'd leave the marked route for a bit to venture down the side streets. We were always surprised when someone would open up their garage doors or we'd get a peek through a gate into a backyard and someone was cleaning wine barrels or tasting the wine they've been laboring for so long to make. I dream of living in a small Burgundian town, surrounded by vines, where wine and all of its intricacies define daily life!
This post is part of a collection of our guides to France. Click here to read other great stories about traveling through France.
If you're interested in other stories from the French countryside, don't miss the lavender fields in Provence!